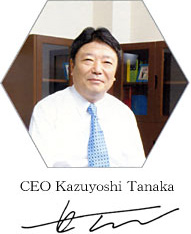 To be carried out open discussion for prevention of global warming in every place, caused by environmental destruction that extreme weather disaster are increasing at all the region.
Even among them, the Kyoto Protocol says that global environmental problems are the most important issue for all mankind in the 21st century. Measures are now under review in the people all over the world bring their collective wisdom TMC founded to aim at the establishment of Recycling-based Society.
We would like to express our deepest appreciation for all the support from customers. Hence, it's followed that TMC has expanded the business, as well as increasing of business site, employee and type of product.
Even if some material dumping as industrial wastes such as Rare Metal Scrap containing various metal, TMC recycles those scrap on a global scale.
The technique, to give customer's satisfaction, TMC recycles to raw material from various characteristic of rare metal scrap generated ex every field in designed process without environmental pollution that is environmentally friendly to the workshop and the surrounding areas. We will unite and do our best to improve with ideas and effort by continuous R & D also a number of patents.
As for Japan is poor in natural resources, it's a very important job to recycle scrap to raw material.
TMC takes pride in taking a role of the security of securement resources for rare metal.
The recycling business is economical also can say the work that is friendly to the earth in the environmental aspect definitely.
For prolonging life of planet earth-Happiness for everyone.
Guide by this corporate philosophy, we will continue to press forward.